GALAXY S II Follows iPhone's Lead... | TechTree.com
GALAXY S II Follows iPhone's Lead...
...Starts smoking in man's pocket - family jewels unharmed.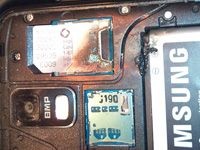 Android fans can stop laughing at the iPhone fire incident. That's because news has emerged from the XDA forums that a GALAXY SII's (GS2) LTE variant, called the Skyrocket, spontaneously combusted inside its owner's pocket. Reportedly, it was an unlocked AT&T version of the phone.

An XDA member called Silly22 posted the pictures of his friend's charred device. According to the post, the guy initially felt a burning sensation on his leg, which prompted him to pull the smoking phone out of his pocket. It's also claimed that the device was only two weeks old. From the snaps, it appears that the fire probably started near the battery connector.
Here's the image of the device in question.
Fortunately, MobileSyrup.com has reported that Samsung has shown its willingness to investigate this matter by sending this note:

"Samsung takes all allegations involving product safety seriously. We invite the consumer to contact Samsung directly so that we can examine the phone to determine the cause of this incident."

In the meantime, it would be prudent to avoid carrying around your GS2 in close proximity to vital body parts.
TAGS: Mobile Phones, Android, Samsung, GALAXY, ck