LG Cinema 3D Game Festival Headed To 5 Cities
Each city will host a Gears of War 3 tournament offering a cash prize worth 1 lakh.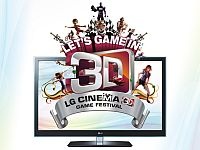 Since everybody and their uncle loves anything remotely 3D these days, chances are the LG Cinema 3D Game Festival will be right up your alley. LG's giving away cash prizes worth 1 lakh rupees to the winner of the Gears of War 3 tournament to be held at the venue, while the runners up get an LG LED TV (32LV3000) worth Rs 32,500 and a Kinect motion sensor valued at Rs 10,000. This event will be held simultaneously in five cities, with the same prizes to be given away at each venue.

The qualifiers will be held on the 9th and 10th of December, while the finals have been scheduled for the 11th. Even if you aren't the competitive kind, the event will host many 3D games that you can sample for the excellent price of free. If you think you are up for the challenge though, click here to register for the tournament.


Here is the list of venues:

Ambience Mall, Gurgaon
Qualifiers: 9-10 December 2011
Finals: 11th December 2011

R City, Mumbai
Qualifiers: 9-10 December 2011
Finals: 11th December 2011

The Forum Value Mall, Bangalore
Qualifiers: 9-10 December 2011
Finals: 11th December 2011

Prasads Mall, Hyderabad
Qualifiers: 9-10 December 2011
Finals: 11th December 2011

Ampa Skywalk, Chennai
Qualifiers: 9-10 December 2011
Finals: 11th December 2011