Corsair Unleashes Vengeance Extreme DDR3 RAM at 3000 MHz
New Corsair Vengeance Extreme memory kits are world's first DDR3 RAM rated at 3000MHz.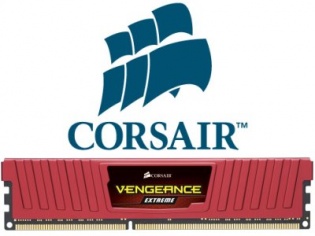 Corsair has announced new Vengeance Extreme 8GB dual-channel DDR3 memory kits rated at 3000MHz, the world's fastest rated production PC memory kits. Fitted with low profile "racing red" heat spreaders, the new 2x4GB memory kits operate at 3000MHz speed with latency settings of 12-14-14-36, at 1.65V; and use normal air cooling.

A Kingpin Cooling memory cooler is included for overclockers who want to use LN2 (liquid nitrogen) to reach memory speeds well beyond 3000MHz. To hit their rated speeds, the modules require a 3rd Generation Intel Core unlocked processor with an Integrated Memory Controller capable of running at 3000MHz frequency.

The extreme-speed 3000MHz rating of the Vengeance Extreme memory kits is the result of a rigorous internal four-stage hand-screening process performed by Corsair engineers. This process is passed by fewer than one in 50 memory ICs. Performance qualification is performed on select Intel® Z77 based motherboards, including the ASUS P8Z77-I DELUXE and ASRock Z77 OC Formula.

Thi La, Senior VP and GM of Memory and Enthusiast Component Products at Corsair said, "We are focused on helping enthusiasts and overclockers push the boundaries of PC performance. Our engineering team's hard work has led to new performance optimization techniques for memory, which we are pleased to debut in our new Vengeance Extreme memory."