ASUS Launches HD 6770 Silent Graphics Card | TechTree.com
ASUS Launches HD 6770 Silent Graphics Card
Up to 16% cooler with passive cooling.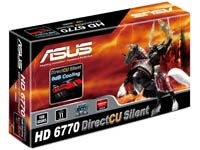 ASUS has launched a new HD 6770 DirectCU Silent graphics card employing passive cooling to eliminate noise. The company claims that the card is up to 16% cooler than other passive cooling design cards, but at the same time yielding 15% better performance and better overclocking.

The new DirectX 11-compatible graphics card is based on AMD's HD 6770, and sports a large heat-sink offering up to 95% more surface area for faster heat dissipation. The card features proprietary Super Alloy Power components, which claims to offer a 15% performance boost and a 2.5 times longer lifespan. With 800 stream processors and 40 texture units, and with 1 GB of GDDR5 video memory, this graphics card packs in some solid horsepower for HD gaming at high settings. Its silent operation makes it ideal to be used in HTPCs.
Summarised below are some of the advertised salient features of this graphics card:
* Totally quiet 0dB passive cooling creates a hushed usage environment and runs 16% cooler than conventional passive cards, presenting unmitigated multimedia and gaming performance.
* The heatsink on the HD 6770 DirectCU Silent offers up to 95% larger surface area than its respective reference design for faster heat dissipation.
* ASUS exclusive Super Alloy Power components offer a 15% performance boost and 2.5 longer product lifespan.
* The HD 6770 DirectCU Silent ships with 1 GB of GDDR5 video memory to handle HD gaming in high detail and with most effects turned on.

Priced at Rs 9750 (excluding taxes), the ASUS HD 6770 DirectCU Silent 1 GB comes with a 3-year warranty.