Rapoo E6100 Bluetooth Keyboard Launched For Portable Devices | TechTree.com
Rapoo E6100 Bluetooth Keyboard Launched For Portable Devices
Offers a 10 metre wireless range - works with iPad, iPhone, Notebook, and Android devices.
Wireless peripheral maker RAPOO is out with yet another wireless keyboard. While the Rapoo E9080 was more of a business-centric product, the E6100 will help you work gainfully using your mobile computing devices. According to the press release the Bluetooth-enabled E6100 is compatible with Android devices, iPhones, iPads, laptops, PCs, and netbooks — basically anything that can connect via Bluetooth. Listed are the features as mentioned on the product page:
Bluetooth 3.0; connectivity range of up to 10 metres.
11.3" (l) x 4.3" (w) x 0.2" (5.6 mm) (d).
Compatible with Windows, Mac, iPad, iPad2, iPad3, iPhone, and Android 3.0 and above.
2 AAA Alkaline batteries.
The RAPOO E6100 is a full-size wireless keyboard and costs Rs 4,400. It also ships with a 2-year replacement warranty.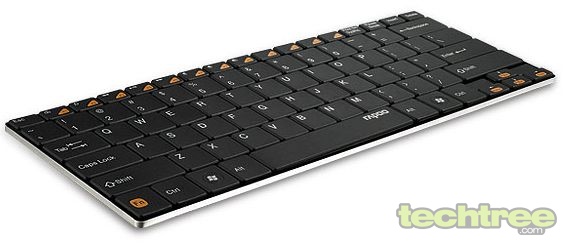 TAGS: Input Devices, Rapoo, iOS, Windows, Android