Sun Direct+ With Unlimited USB Recording Launched For Starting Price Of Rs 1600 | TechTree.com
Sun Direct+ With Unlimited USB Recording Launched For Starting Price Of Rs 1600
The new set-top box allows users to pause, record, and rewind SD content at no extra cost as compared to the earlier non-recording variant.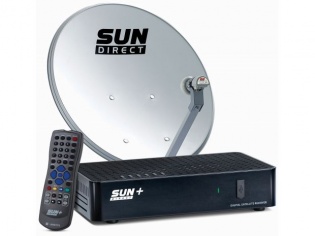 Indian DTH service provider Sun Direct has launched Sun Direct+, a standard definition set-top box with unlimited recording capability via USB port. Subscribers can record live TV content to any USB flash or hard drive that is connected to the STB. They can even pause and rewind content to check if they missed some action. The website mentions that the service uses MPEG4 technology to play and record "DVD quality pictures with CD quality sound". The press release further suggests that you can record a program from a channel that you are currently watching: It does not support background recording. So if you are watching, let's say a cricket match, you will not be able to record a serial airing on another channel at the same time. However, users can schedule recording up to a week in advance.
Sun Direct + is available at a starting price of Rs 1600 with 3 months of Super Value Pack free, and for Rs 2000 with a free 7-month subscription of the same package. Incidentally, Sun Direct, another SD STB from the same company without recording capability is also being sold for the same price of Rs 1600, making it effectively obsolete with the introduction of this new product. Dish TV had also introduced a similar product with SD recording capability known as Dish +, which is available for a starting price of Rs 1700. HDTV owners would rather want to check out the company's Sun Direct HD STB , which also features unlimited USB recording and all the other functions, along with high definition recording. This will obviously come to you at a higher starting price of Rs 2300, which is still not bad.