Epson Launches Six "Affordable" 3D Projectors | TechTree.com
Epson Launches Six "Affordable" 3D Projectors
Company targets home, education, and business segments.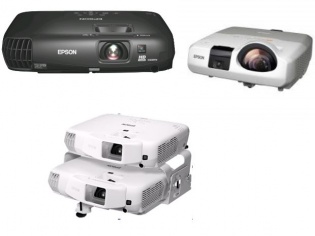 Epson has launched six new projectors, all of which support 3D. The company has mentioned in press release that these are for the home, education, and business segments and will therefore be affordable, although pricing details have not been mentioned for any of the models. The model numbers of the projectors are EB-421i, EB-431i, EB-426Wi, EB-436Wi, EH-TW550, and EB-W16SK. It must be noted that the prefix EH denotes educational and home, while EB denotes educational and business.

The release mentions that the EH-TW550 is being marketed as a home theatre projector capable of projecting active 3D images for movies and gaming. Rather than Full HD as a general home user would expect today, the projecting capabilities of this device are limited to 720p. This is contrary to Epson's usual boast of Full HD 3D projection as it prominently advertises Full HD 3D Glasses on its website. Apparently, that is not true for this 3D projector model.

The EB-W16SK is meant specifically for educational and business users. It is actually a 2D projector that can be stacked one above the other to project 3D images (one for the left eye and the other for the right) using passive technology involving the user of polarised viewing 3D glasses that don't require batteries. Of course, the cost doubles when such a setup is used.

The rest of the models feature 3LCD technology for brighter images with better colours. 3LCD technology makes use of three separate LCD panel chips with each one individually handling the three primary colours of red, green, and blue. These come with the ability to be used as an interactive whiteboard without being attached to a PC — a feature useful for business as well as educational users. Its dual-pen capability allows to users to write or draw on the projection wall together.

Epson PR has promised to provide us the complete pricing and we will update this article as soon as we receive the same.
---
UPDATE: We finally have the prices for the projectors: EB-421i is priced at Rs. 64,699; the EB-431i costs Rs. 86,799; the EB-426Wi is worth Rs76,299, the EB-436Wi will set you back by Rs 101,299, and the EH-TW550 is worth Rs. 54,299. The cost for the EB-W16SK is yet to be confirmed.