Sony PlayStation (PS3) Is Now Available In 4 Colours | TechTree.com
Sony PlayStation (PS3) Is Now Available In 4 Colours
The 7-year itch causes three new body colours to be made available, but no PS4 yet.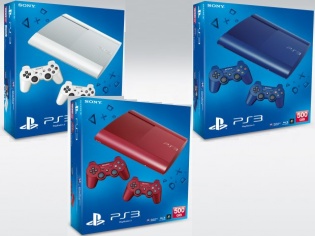 Everyone is eagerly awaiting the PlayStation 4, and what does Sony do? Launch its predecessor, the PS3 again, that's what. At first glance, it felt like 2006 called and wanted its press release back.

However, the news was indeed true, Sony seemingly just felt the 7-year itch (PS3 is currently in the seventh year of its life-cycle) and masked its boredom by saying this was a launch "for the summer holidays".

The Sony PS3 will have a launch, in three new colours - Classic White, Garnet Red and Azurite Blue; in addition to the existing Charcoal Black. The PS3 bundle (with 500GB internal storage) is priced at Rs 23,490; including a Dualshock controller of the same colour as the body.

There are no other changes, PS3 consoles of all colours will remain compatible with hardware and games made for it.
TAGS: Sony, PlayStation, PS3, Gaming, consoles