Microsoft Could Implement Kinect In TVs
Reportedly in talks with TV manufacturers.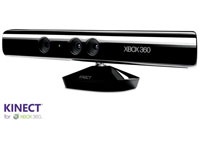 Microsoft's Kinect is a pretty neat add-on to the Xbox 360 that enables gesture controls for games. Naturally, the company wouldn't just want to limit it to the console. The Kinect currently competes with the likes of Nintendo's Wii Remote Plus and Sony's PlayStation Move. The former, however, has managed to outsell the two even though it was the last to arrive on the scene. While Microsoft will bring the Kinect to Windows PCs starting from next year, it has come to light that MS could well be expanding to televisions as well.
According to sources, the console manufacturer is already in talks with major television manufacturers such as Vizio and Sony to integrate the Kinect with future televisions. It will be interesting to see how Microsoft achieves this, if at all this info is true. One outcome of the integration is that users will not necessarily need the X360 to use the Kinect feature, thus opening up a lot of doors for MS and game developers. As with any rumor, we recommend you take this with a pinch of salt.