Plastic Logic 100 Announced | TechTree.com
Plastic Logic 100 Announced
Is a shatterproof e-reader meant for classrooms.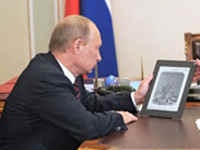 Plastic Logic has announced a new ebook reader, the Plastic Logic 100. This 10.7" device is meant for the education sector. It claims to use the same plastic-based epaper technology as originally intended for its cancelled QUE reader.

The device measures a mere 7.65 mm thick and weighs 475 grammes. It sports a capacitive touchscreen display with pixel dimensions of 1280x960. Apart from being shatterproof, the display is reportedly anti-glare and fingerprint-resistant. The device features an 800 MHz CPU, 4 GB of storage, and a micro-USB port. The OS is taken care of by a customised Windows CE supporting a swipe-controlled GUI. The battery life reportedly extends to a week.



The Plastic Logic 100 will come preloaded with 40 textbooks suited to Russian school grades 6 and 7. The reader will arrive in Russian classrooms later this month, with a price tag of 12,000 Rubles (Rs. 17,850 approx). No word yet on when the rest of the world will get access to this device.