Google Announces 'Mapathon 2013' To Improve Local Maps
Invites everyone to make Google Maps work better in India, top 1000 contestants will win prizes.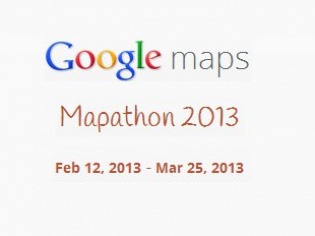 Google India has announced a mapping competition: Mapathon 2013. Improving Google Maps in India is the intention, for which they are requesting your help to provide other users with the most comprehensive, accurate and easy-to-use maps. In return, there are prizes to be won.

Mapathon 2013 will run from 12th February to March 25, 2013. Registrations have opened and the mapping contest is open to anybody who lives in India. Google is inviting amateur mappers and mapping enthusiasts to add their knowledge of local places through Google Map Maker.

The top 1000 mappers participating in Mapathon stand a chance to win Android tablets, smartphones, gift vouchers and Google merchandise.

How does it work? Google Map Maker is an easy-to-use tool that allows users to add more detail to Google Maps through a few simple clicks. Google Map Maker was conceptualized in India more than 4 years ago, and ever since, it has provided a rich set of features for users to map with.

Using Google Map Maker, you can select a specific area on Google Maps and add new information based on your own local knowledge or by referencing Google Maps satellite imagery. With just another click, you can save and submit your input — and once the submitted edit has been verified, the new information will be added to Google Maps. Google suggests starting by adding in those places you consider important — such as your favorite local hangouts or a nearby hospital — or by simply updating details of places already on Maps.

Highlighting the USP of Google Map Maker, Jayanth Mysore, Product Manager, Google India said, "It has always been our endeavour at Google to organize the world's information and make it universally accessible and useful. One way we hope to achieve this is by mapping the world and what better way to do this than by asking users to map their neighbourhood. Google aims to provide better maps for India by building better maps for the users, by the users. What started off as an initiative by a few Google engineers is now used across the world and today, citizens across India can participate in this great project through Mapathon 2013."