Microsoft Officially Working On A Social Network
Facebook and Google+ might get a new "friend".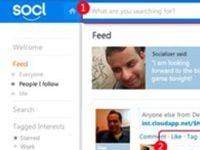 In July, reports emerged of a bare-bones version of Microsoft's Tulalip social network mistakenly hosted on Socl.com. This service allowed logging in via Facebook and Twitter. However, within a week, Microsoft hurriedly deleted the site and posted a retraction.

Now, after a gap of three months, the guys from The Verge have got a chance to check out MS's project. According to them, the "Tulalip" name has been dropped in favour of Socl (pronounced "social"), which might itself be a temporary name. Nevertheless, it is certainly an improvement. The interface looks very similar to that of Facebook, with elements from Google+ thrown into the mix.

Of course, you can stalk friends and update your status. There's also a social search feature wherein you can recommend a search result to your friends - just like Google's +1 button. Moreover, its Party feature takes its inspiration from Google+ Hangouts. In case you're still wondering, it basically allows users to watch the same YouTube clip with their online friends. The private messaging feature seems to be missing in the current version though.

Keep in mind that Socl is a research project, and it might not be released as a final product. However, industry sources claim that a public beta testing phase isn't too far around the corner.