Clock Is Ticking For Cheap Windows 8 Upgrades | TechTree.com
Clock Is Ticking For Cheap Windows 8 Upgrades
Microsoft releases update on Windows 8 pricing - upgrade to cost Rs 6500 for non-Pro, and Rs 10,500 for Pro edition.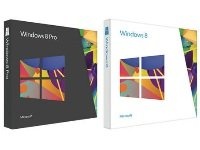 Within 10 weeks of it's October 2012 launch, Microsoft announced sales of 60 million licences of Windows 8. With the Windows Upgrade Offer still in effect, you can buy Windows 8 for Rs. 699 if you're interested. The last date to redeem this offer is 28th February, and it is limited to customers who've bought a PC/laptop with Windows 7, between 2nd June 2012 and 31st January 2013.
After the offer period (1st February 2013 onwards), buying Windows 8 upgrades is set to become costlier, as detailed by Microsoft in a recent blog post.
Windows 8 upgrade - US$119.99 (Rs. 6,500 approx.)
Windows 8 Pro Pack (Windows Anytime Upgrade) - US$99.99 (Rs. 5,300 approx.)
Windows 8 Pro upgrade - US$199.99 (Rs. 10,500 approx.)
Windows 8 Media Center Pack - US$9.99 (Rs. 530 approx.)
Notably, the pricing information above does not apply to non-upgrade situations. The Retail and OEM/System Builder editions of Windows 8 will cost more than the upgrade editions.