Lloyd Unveils Five LED TVs
Issues an open challenge for 1 crore rupees.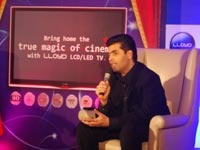 Lloyd has launched five new LED TVs including a 55" 3D LED TV, adding to their existing series. Speaking at a press conference graced by its brand ambassador Karan Johar, Lloyd Group President, Nipun Singhal also issued an open challenge to prove that any of the Lloyd TVs is inferior to TVs from any other brand, with 1 crore rupees as a prize money.

Timing the launch in anticipation of the festive Diwali season, Nipun Singhal stated that Lloyd TVs offered the best quality TVs in their price range. He said, "We are assuring our customers best in class quality with our state-of-the-art LED televisions and are therefore happy to announce 1 crore "Quality Challenge" for our customers: We have compared a 32 inch model of Sony, Samsung with a Lloyd TV of the same screen size and approx at the same price point and challenged the perception in consumers mind by saying that if anyone can prove the other equivalent screen size and priced models are better in picture quality than the Lloyd TV as above, we would offer 1 crore as a cash prize". Of course, we already know that is going to be next to impossible to meet this challenge considering the "similar priced models" clause, which will be tough to meet.

Lloyd Group President, Nipun Singhal with Karan Johar (right).

The new LED TVs introduced on the occasion are aesthetically better than earlier models and have screen sizes of 24", 32", 40", 46", and 55". The TVs are priced competitively starting with Rs 15,000 for the 24" model, up to Rs 1,25,000 for the 55" 3D LED TV. Lloyd to use Certified "A" grade panels in all its televisions and Ps40 capacitors to reduce power consumption by up to 60%. In addition to the HDMI and D-Sub port, these TVs claim to play JPEG, MP3, MPEG1, MPEG2, MPEG4, and DIVX3.1 through USB 2.0 ports with the 24" and 32" having one, while the rest having two USB 2.0 ports. The 24" and 32" models are HD ready, while the 40", 46", and 55" are Full HD 1080p models with touch controls on the bezel. Lloyd claims a contrast ratio of 1,00,00,000:1 (ten million to one) with proprietary Clear Motion Drive for clear images. In addition to down firing speakers, Lloyd TVs have the facility to attach a sound-bar speaker system being sold separately, which attaches below the TV and enhances the sound.

Lloyd TVs are available at more than 2000 retail outlets across India and at all major internet shopping websites.