BenQ Launches Two Full HD 3D DLP Projectors For Up To 300" Screen Size; Prices Start At Rs 1,00,000
Claims to be the world's first Full HD short throw projector; supports 2D-to-3D conversion.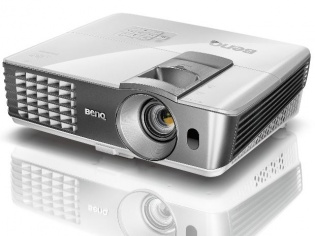 BenQ has launched two Full HD 3D DLP projectors W1080ST and W1070, of which, the former claims to be the world's first short throw variant which offers 1080p support. Projectors, almost always, are meant to recreate images that are larger than conventional televisions, and hence inherently need to be placed at quite a distance from the screen. However, with the help of advanced optics, short throw projectors are capable of projecting a large image from a relatively shorter distance (typically less than 2 m), making them ideal for small rooms and tight spaces. While it is capable of projecting images as large as 300" diagonally, the W1080ST can project a 100" image from just 1.5 m! Not too far behind, the W1070 can project a 79" image from 2 m, with a maximum image size of 235". Here are the common specifications of the two:
Native Resolution: 1080p (1920x1080).
HDTV Compatibility: 480i, 480p, 576i, 567p, 720p, 1080i, 1080p.
Resolution Support: Up to WUXGA (1920x1200).
Aspect Ratio: Native 16:9 (5 aspect ratios selectable).
Brightness: 2000 ANSI lumen.
Contrast Ratio: 10,000:1.
Picture Modes: Dynamic / Standard / Cinema / 3D / User 1 / User 2 / User 3.
3D Direct Play, 1x 3D glasses.
2x HDMI 1.4 ports, Composite video input, D-Sub, Audio in, Audio out, 10 W speakers.
Power Consumption: 353 W (typical), 0.5 W (standby).
Lamp Type: 240 W.
6000 hours lamp life in Eco Mode.
UI supports multiple languages including Hindi.
Both projectors support Full HD 3D and can even convert live 2D videos and images to 3D on-the-fly. They come with a pair of 3D glasses each to view content in 3D mode. Being compatible with NVIDIA 3D Vision, they can be connected to a compatible PC for big screen gaming. Similarly, 3D Blu-ray players can also be connected to play 3D titles. Projectors are known to consume more power than TVs, and therefore these projectors support SmartEco technology that claims to save up to 70% lamp power consumption and lower maintenance costs. These also carry an ISFccc certification that enables a better viewing experience by optimising the colour performance via the Day and Night viewing modes.
The BenQ W1080ST and W1070 are priced at MRPs of Rs 1,10,000 and Rs 1,00,000 respectively, and will be available later this month. If you are thinking about buying a new big screen TV, these can be a valid option to consider instead as well. However, as is the case with projectors, the lamps are the first to go and at an average TV viewing of 8 hours a day, it is quite an expense to purchase a new lamp every two and a half years.