Quad Core Transformer Prime Officially Unveiled | TechTree.com
Quad Core Transformer Prime Officially Unveiled
ASUS today unveiled the long awaited quad core tablet, the Eee Pad Transformer Prime.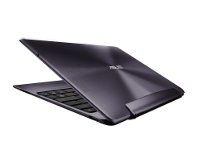 The quad core ASUS Transformer Prime was in the news a few days ago for being the world's first quad core tablet running on NVIDIA's Tegra 3 chipset. Today, the Taiwanese manufacturer has officially announced the new Honeycomb tablet in all its glory. The new ASUS Eee Pad Transformer Prime, as it is officially known, will offer brilliant hardware specs for a very reasonable price. Read on for the detailed specs.

The new tablet will feature a 10" Super IPS+ 1280x800 HD display, which seems like the standard requirement for all Android tablets now. For protection against scratches, ASUS has decided to install Corning's Gorilla Glass. Other aspects of the tablet have been kept in mind by the company with the camera being sporting an 8 MP sensor (with f/2.4 aperture), while other tablets merely have 5 MP. This seems like quite a leap because tablets are generally not considered as a camera replacements. That being said, we're sure this feature will benefit the user in every way. The camera is capable of shooting 1080p Full HD video as well. The Transformer Prime comes with a 1.2 MP front facing camera for video calls. It will be running on Android 3.2 (Honeycomb) initially, with an Ice Cream Sandwich update arriving eventually. ASUS is expected to say a word or two about its update schedules in December. The tablet will be made available in two colors: Amethyst Grey and Champagne Gold.


Other features include 1 GB of RAM, NVIDIA's Tegra 3 quad core processor (though the clock speed is not yet known), and will be made available in 16 and 32 GB variants. Just like the predecessor, ASUS will give you an option to purchase the keyboard dock separately, which will cost $149 (Rs 7400). Purchasing the keyboard dock will have its benefits since it will come with a USB 2.0 port and an SD card slot as well. Plus the keyboard will provide the tablet with 6 hours of additional battery backup. The tablet in itself will come with a microSD card slot as well as an HDMI port. Therefore, there are quite a few connectivity options with the tablet, especially with the keyboard dock combined.




The 32 GB version of the tablet will set you back by $499 (Rs. 24,900), while the 64 GB variant will cost $599 (Rs. 29,900). Both the tablets are very reasonably priced, but we expect the prices to go up by the time this tablet arrives in India. Either way, this is a great tablet and ASUS' marketing approach towards the tablet will be closely observed.