HTC Edge Could Be The First Quad Core Smartphone
The handset could make way to the markets by Q1 or Q2 of 2012.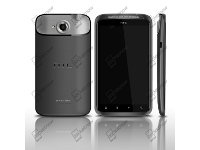 HTC smartphones come with an array of features and a trendy looking unibody design (well, the recent ones do at least), and not to forget the cool custom UI in the form of the HTC Sense. After the recent announcement of the HTC Sensation XE and the Sensation XL, we were wondering if HTC would cool off a little with device launches. However, that doesn't seem to be the case since a leak has discovered, what seems to be the world's first quad core smartphone. The handset known as the HTC Edge could feature NVIDIA's Kal-El Tegra 3 quad core chipset. While nothing is confirmed yet, the picture suggests a typical slab type HTC smartphone.




We recently learnt about the ASUS Transformer Prime, which will feature the Tegra 3 chipset as well. From the specs that we have been able to access so far, the Edge seems like quite the smartphone with a huge 4.7" HD display, an 8 MP camera sensor capable of shooting 1080p videos, 1 GB of RAM as well as a 1.5 GHz quad core mobile processor to make things snappier than ever. Also, since HTC's love towards Beats Audio is evident from the recent smartphone launches, we figure that there would be support for that as well. There is very less info about the operating system that it would be running, so we can only guess that Android 4.0 could be on board. Hence arises another major question. Will there be a new version of Sense made for Ice Cream Sandwich? Well, reports suggest that HTC is readying a new version of Sense dubbed the Sense 4.0 which would bring the custom UI to HTC's ICS handsets. It will be interesting to see the battery capacity of this beast here since quad core smartphones will empty a lot of juice in very little time.

Other new services such as the HTC Play (Games), HTC Listen (Music), HTC Watch (HD Movies), and HTC Read (Books) could be launched with this new smartphone. Sadly though, the HTC Edge will not be launched until Q1 or Q2 of 2012, so there is still a substantial amount of time left for the launch. We hope that gives HTC enough time to deal with ICS and Sense.
TAGS: Mobile Phones, HTC, Chethan