CES 2013: ZOTAC Flaunts Its Third Generation ZBOX mini-PC
1.1 GHz dual-core Celeron CPU and NVIDIA GeForce GT 610 in a small package.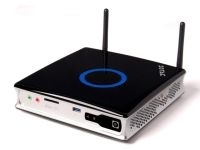 ZOTAC, mostly known for its graphics cards and mainboards has unveiled its latest iteration of ZBOX mini PC. This third generation ZBOX is 7 mm thicker than its predecessor to accommodate upgraded hardware and better system cooling. The specs are more lapto-like than those of a traditional desktop. The new ZBOX is powered by a dual-core 1.1 GHz Intel Core Processor (Celeron) CPU, coupled with NVIDIA's GeForce GT 610 GPU. It comes with a 500 GB 2.5" hard drive that spins at 5400 RPM (desktop hard drives typically do 7200 rpm) . The two DDR3 memory slots allow you to install max 16 GB (2 x 8 GB) RAM. Other notable features include an HDMI port, memory card reader, Wi-Fi, and Bluetooth 4.0.
Currently, there's no information regarding this device's pricing and availibility. We'll update this article when we get further details from Zotac India.
Mini PCs are ideal for offices due to their small footprint and lower power comsumption. At homes, they can be used as media players when connected to a TV, or even as download machines.
More specs :
Dual-core 1.1 GHz Intel Core Processor (Celeron).
2 x 204-pin DDR3 SO-DIMM RAM slots (Up to 16 GB).
500 GB 5400 RPM 2.5" hard disk.
NVIDIA GeForce GT 610 GPU.
Video Memory: 512 MB.
Display Ports: HDMI and DVI.
Inbuilt Memory Card Reader (Supports: SD/SDHC/MMC/SDXC).
Ethernet 2 x 10/100/1000 Mbps.
Wi-Fi, Bluetooth 4.0.
USB Ports 2 USB 2.0 (rear) (high-amperage charging supported).
2 USB 3.0 ports (1 on top, 1 on front).
Compatible with Windows 7 and 8.