CES 2013: Lenovo Unveils 27" IdeaCentre Horizon Table PC With Windows 8 | TechTree.com
CES 2013: Lenovo Unveils 27" IdeaCentre Horizon Table PC With Windows 8
A cool and expensive way to play board games with your family and friends.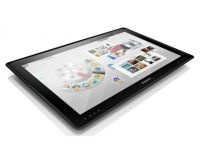 Chinese PC giant Lenovo has announced the IdeaCentre Horizon Table PC that sports a 27" touchscreen. It's actually a full-blown Windows 8 desktop computer that can be doubled as an interactive table. If you are a filthy-rich tech lover, you can even play Monopoly-style board games on it using specially designed accessories including an e-dice, joysticks, and strikers. The device is powered by a 3rd Generation Intel Core i7 processor; and features Dolby Home Theatre v4 audio. While the manufacturer doesn't specify any details, here are the specs as reported by CNET:
27" full-HD multitouch screen with 1920x1080 pixels.
3rd Gen Intel Core i7 processor, 8 GB DDR3 RAM.
Nvidia GeForce GT 620M 1 GB graphics card.
Windows 8.
1 TB HDD; 64 GB SSD (optional).
Wi-Fi, Bleutooth, HD webcam.
2 x USB 3.0, HDMI port, 6-in-1 card reader.
[Also read: TechTree's brief explanation of why CES is a big deal in the world of tech]
The IdeaCentre Horizon Table PC will hit market by March with price tag of around $1700 (approx Rs 93,000). While this is quite a considerable amount of money to ask, Lenovo's offering is still affordable than Microsoft's 40" Surface table (now rebranded as PixelSense) that retails for $8300 (approx Rs 4,60,000). If you do intend to by the Lenovo one though (or not), check out the gallery below for more product shots.