Microsoft Eases WP Hardware Restrictions | TechTree.com
Microsoft Eases WP Hardware Restrictions
Move will pave the way for relatively cheap Windows phones.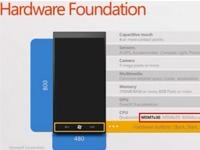 Microsoft is pushing its mobile operating system big time. In an attempt to lure more smartphone manufacturers, the company has now relaxed hardware requirements for the Windows Phone 7.5 (Mango) platform. This will allow phone makers to roll out relativley cheaper handsets in the market.

Features such as a camera, compass, and gyro are no longer mandatory with the revised minimum requirements. The standard hardware now includes physical buttons for Start, Search, and Back. The capacitive display must support 4-point multi-touch with 800x480 pixels. The minimum RAM requirement has been pegged at 256 MB, and storage has been set to a minimum of 8 GB. These gadgets must also have an accelerometer, A-GPS, and Wi-Fi onboard.

The lack of a gyro in the recently reviewed HTC Radar suggests that companies working closely with Microsoft were already aware of the revisions. If the Nokia Lumia 710 succeeds, we will probably see a flood of affordable Mango phones. Real mangoes, especially the Alphonso, continue to remain out of our budgets though.
TAGS: Mobile Phones, Microsoft, Windows Phone, ck