Spotted: iPhone 6 And iOS 7 In App Usage Logs
Developers could be already testing apps on new hardware and mobile OS.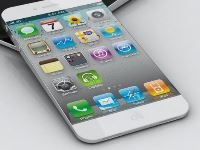 App developer usage logs are already showing the first signs of iPhone 6 and iOS 7; the iPhone 5 was launched only as recently as September 2012. The Next Web, quoting unnamed sources, reports that the new hardware currently being tested by Apple appears in the app usage logs with the "iPhone 6,1" identifier. Earlier, the iPhone 5 had an identifier of "iPhone 5,1" and "iPhone 5,2" in similar such logs. The platform on which the device is being tested is marked as iOS 7.
The developer logs show that the app requests originate from Apple's Cupertino campus, hinting that Apple's software development team is testing existing apps for compatibility issues on the new hardware and mobile OS. The report also mentions that while the logs can be faked, the unique IP footprint means that they are probably genuine.
Apple generally launches a new version of iOS every year at its WWDC event in San Francisco and is likely to repeat the same this year with the iOS 7. The iPhone 6 is likely to be launched in the third quarter of 2013, keeping in sync with Apple's yearly production cycle for a new version of the device. Nothing is known about hardware specifics of the new devices as of now.
The iPhone 3GS appeared identical to the iPhone 3G, while the iPhone 4S looked very much the same as the iPhone 4, thus retaining the same design, but changing the hardware within. If Apple is indeed going to bring out the iPhone 6 instead of the iPhone 5S, then looking at the historical trend, this will indicate a major design change as compared to the iPhone 5.
Could Apple be heading towards a phablet with a larger iPhone? It seems very unlikely at this stage. With the iOS 7 Apple would attempt to set right where it erred with iOS 6: The infamous Apple Maps, privacy issues related to targeted ads, and a unexpectedly large data usage that may be related to ads. Of course, these are all just speculations, so take them with a pinch of salt.
TAGS: Mobile Phones, Apple, iPhone, iOS, Jayesh