Yebhi.com Starts Free Aircel Talk Time On Purchases
Campaign is aimed at the young, but is mainly to woo potential customers.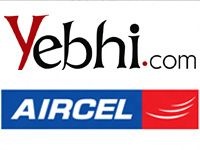 Online shopping portal Yebhi.com has teamed up with Aircel to offer free talk time to the latter's subscribers on purchases made at Yebhi. The initiative, called "KSKT – Keep Shopping Keep Talking", aims to connect with younger consumers. Customers of Yebhi.com — after making a purchase — will be presented with a special echarge promo code and cashback, and will be redirected to the Aircel website. Aircel customers can use the code to claim free talk time in addition to the shopping cashback of that amount. As an example, a purchase of Rs 1000 on Yebhi.com will get the customer Rs 200 worth of Aircel talk time and a Rs 200 cashback. If the customer happens to be using a non-Aircel mobile service, he is given the option to get a free Aircel connection along with the purchase.
Incidentally, this is not the first time that mobile recharges have been tied to purchases. Big Bazaar has been giving recharges to T24 (a Tata Teleservices company) mobile users for quite some time. The difference here is that Yebhi.com is probably the first online portal to do the same (Big Bazaar is a brick-and-mortar shop).
Do you think such a scheme will do well for Aircel's subscriber base?
TAGS: Telecom, E-Commerce, Aircel, Jayesh