Motorola Motokey Social Finally Official
The Motokey Social has a dedicated Facebook button to access and share via the social network on the go.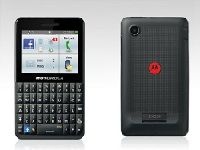 Budget handsets are always a huge hit in the market. While most major brands like Samsung, LG, Motorola, and Nokia have more or less cemented their position in the entry-level smartphone segment, there's always room for more additions to the list. Now, since Facebook is an integral part of the youth culture, companies are more inclined towards rolling out FB phones. We saw HTC announce the fairly decent ChaCha and Salsa, which somehow didn't manage to impress or attract that many customers. As a matter of fact, retailers have pulled out the HTC Salsa off their listing. That doesn't tell a good story about how FB phones have fared so far. Then there was iNQ's FB phone (Cloud Touch) which we haven't heard a lot about. Nevertheless, Motorola has decided to step into the scene with a FB phone of its own called the Motokey Social. The handset in fact is the one we saw in September when it was listed on Bluetooth SIG under the serial EX-225.




Motorola now has now made the phone official with the handset going live on it's official website and listed as coming soon. Though there's no official word on the release date, we can guess that it will not take long to hit the retailer shelves. As far as the price is concerned, we don't see this handset going hard on the customer's wallet. The Motokey Social features a 2.4" capacitive touchscreen, a 3 MP camera on the back, 64 MB RAM with 128 MB ROM, Wi-Fi, Bluetooth, and a dedicated FB hardware button for quick access to the social network. Since this is a feature phone, you will not find Android running inside. Instead this will run on a stock OS seen on most of Motorola's low end devices. The Motokey Social (EX-225) looks like a pretty decent feature phone with the potential to make it big in the market if priced right, though that is a question which only time can answer. There is no doubt that Motorola will start selling the handset in India as well. We should see the company make an announcement by the end of this month.
TAGS: Mobile Phones, Motorola, Chethan