Angry Birds Star Wars Now On Facebook | TechTree.com
Angry Birds Star Wars Now On Facebook
Brings in social elements to the insanely popular gaming franchise.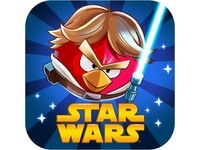 The latest avatar of the bird slinging game — Angry Birds Star Wars can now be played on Facebook. Being 'social', the app leverages social features to allow players to compare scores and compete against their friends. Moreover, the games developer, Rovio, has mentioned that there would be fresh new content including five new levels each week.
Exclusive to the Facebook version, are also three new power-ups — Blaster Droid, Saber Sling, and Thermal Detonator. Thermal Detonator power-up can be used to plant a surprise explosive, the Blaster Droid is for laser destruction, and Lightsaber Sling for super flinging. Additionally, there is also a clone-bird ability, which duplicates a bird of your choice.
We did a review of Angry Birds Star Wars sometime back and thoroughly enjoyed every bit of the gameplay. You can move over to the dark side by joining the Facebook game here.