Google Celebrates 200 Years Of Grimm's Fairy Tales With A Doodle | TechTree.com
Google Celebrates 200 Years Of Grimm's Fairy Tales With A Doodle
Enjoy the story of the little Red Riding Hood through an interesting interactive logo.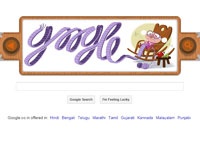 Fairy tales have been an integral part of our childhood. Today, Google celebrates 200 years of Grimm's Fairy Tales through an interesting series of panels on its homepage. The doodle takes you back to the story of the Little Red Riding Hood, a European fairy tale about a little girl who goes to meet her old granny, only to bump into a Big Bad Wolf.
Originally written by Charles Perrault, the story came to the German Brothers Grimm (Jacob and Wilhelm Grimm) in two versions, from which they created a series of two stories. It appeared as the story of "Rotkäppchen" in the first edition of their book "Kinder- und Hausmärchen" (Children's and Household Tales (1812)).
The Brothers Grimm were known to be academic linguists, and cultural researchers, who collected and recreated folklore. Some of their popular stories include "Cinderella" (Aschenputtel), "The Frog Prince" (Der Froschkönig), "Hansel and Gretel" (Hänsel und Gretel), "Rapunzel", "Rumpelstiltskin" (Rumpelstilzchen), and "Snow White" (Schneewittchen) among others.