The Next Kindle Could Feature An 8.9" Display
9.7" and 10.1" variants could also be out next year.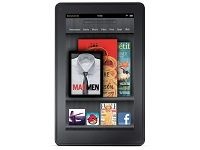 The Kindle Fire was Amazon's answer to the iPad and the entire army of Honeycomb tablets, with the major selling point being the complete tablet experience for a very reasonable price. It seemed like a plan which couldn't possibly go wrong and that was exactly the case. Pre-orders are reported to peak at about 50,000 per day (although we believe the number might have considerably come down by now). Well, it merely costs $200 (Rs 9800) in the US, so nobody would mind paying that little for a tablet. Now, fresh from a rumor that Amazon is considering a successor to the Kindle Fire already, we might have been able to gather some info about it. After reports that Amazon is prepping a full-fledged low cost 10.1" tablet, it has now come to light that the next Kindle tablet will in fact feature an 8.9" display. LG Display and Chunghwa Picture Tubes apparently have received orders for 8.9" displays from Amazon. Any further details regarding the subject are very scarce, so you might want to take this with a pinch of salt.

We don't really see the point of this since it will not be a major bump in the display size compared to the Kindle Fire. However, if Amazon manages to market the tablet like the Kindle Fire, we have no doubts about it becoming a hot seller. It's also believed that following the launch of the 8.9" tablet, Amazon could launch a 9.7" or a 10.1" tablet in 2012. The Kindle Fire is not out yet, and we will have a better idea of how the tablet fares in the market once it is out. Looking at the pre-orders made so far though, we believe that sales will go over the roof in no time. The Amazon Kindle Fire will break cover in the U.S on the 15th of November. As of now, Amazon has no plans of shipping the Kindle Fire to India, but that could change in a month or two. Keeping our fingers crossed.