Portronics Handmate Turns Your Ordinary PC Into A Touchscreen Windows 8 Device For Rs 5000 | TechTree.com
Portronics Handmate Turns Your Ordinary PC Into A Touchscreen Windows 8 Device For Rs 5000
The nifty accessory expands the functionality of your older computing hardware.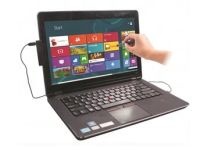 If you are excited about Windows 8's touch-based interface, but not willing to buy its expensive supporting hardware, there's a cheaper workaround that's just launched. Portronics says its product, the Handmate, adds touch interface to a normal screen. Don't get your hopes too high though, as you'll have to stick to the bundled digital stylus to interact with the screen.

I can't say whether or not it would enhance the productivity, but it will be fun nonetheless. Imagine playing Fruit Ninja or Cut The Rope on a large screen, wouldn't that be amusing? Portronics claims that the gadget uses ultrasound and infrared technologies to make the touch interaction happen. We reckon it would be difficult to use such a touch interface on a laptop screen for extended periods of time, since the screen does not swivel and fold back, the way a device with native dual input would.

Here's the complete list of specs:
Coverage Area: Up to 17".
Resolution: 100 DPI.
Accuracy: 0.2 mm.
Communication: USB 2.0 Full Speed
2 x SR41 batteries for the stylus.
Weight: about 9 grammes.
Available Colour: Black.
The retail package consists of a stylus and USB powered receiver, and is priced at Rs 5000. We haven't used this product yet, and therefore cannot tell how useful it's in real life. However, we're posting its official demonstration video, which might help you judge the device:
TAGS: Input Devices, Laptops, Accessories, ck