Aakash iTutor, An Android Tablet-Based Coaching Program, Will Help Students Learn At Home
No affiliation with the Aakash tablet; courses are available for students of standards VIII to XII.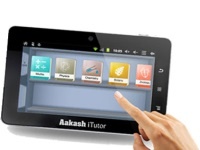 We have recently spoken about how mobile phones are being used as tools of education and how iDevices are being used in a school. With tablets proliferating in India, we expected these devices — with their larger screens, more appropriate for the purpose — to be used along such lines. Aakash Education Services has launched a coaching program that works on a 7" Android tablet bundled along with the course, called Aakash iTutor. This is in no way affiliated with the Aakash tablet; a coaching institute with that same name has been in existence for the past 17 years. The target audience for the iTutor course is students of standards VIII to XII who stay far from the class venues, and for whom this is a means of distance education. The coaching classes of the institute are located in and around Delhi.
Students from all over the country can enrol for the course, and get a 7" tablet with a customised version of Android 2.3.4 (Gingerbread) as part of the package included in the fees. (SMS AAKASH to 53030 or call 1800 102 2727 toll free for more information.) The tablet has Wi-Fi connectivity, and can also connect to the internet using a USB dongle. The customisation includes access to video lectures, self-study materials, self-assessment tools, a feedback mechanism, and other features to help study various subjects. It claims to provide the interactivity of a classroom. This needs to be taken with some healthy scepticism, because it is completely up to the student to participate; the teacher has no control.
The iTutor has the option to lock out entertainment features right at the start. However, a company representative told us that students can upgrade the software once they purchase the tablet, which pretty much means the lock is useless.
Overall, this is a positive step in the area of digital education. We'll be able to tell you more about iTutor once we receive the tablet for review. The video below should give you an idea about the programme.