YouTube And Indian Govt Announce Short Movie-Making Contest. Time To Get Famous With Your 5-Minute Clip
Video service invites filmmakers, students, and video enthusiasts to submit entries by the 5th of February, 2013.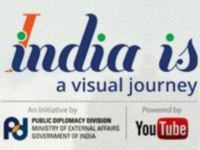 YouTube and the Public Diplomacy Division of the Ministry of External Affairs of India have announced this year's India Is Global Video Challenge 2012. It is titled "India is …a visual journey", to highlight the country's diversity. Filmmakers, students, video enthusiasts, and pretty much anyone with a penchant for making videos can participate. The criteria for entering the competition are that your clip must not be longer than 5 minutes, and that it must be based on one of three sub-themes: "India is incredible", "India is unforgettable", and "India is wherever you are".
While it is topically about India, the contest is open to anyone, regardless of nationality and location. The last date to submit entries is 9th February 2013.
As inspiration for participants, YouTube has joined forces with film director Anurag Kashyap to produce five short showcase films under the three themes. A panel from the film industry will judge entries on the basis of storytelling, creativity, originality, screenplay, performances, and technical execution. All the entries will be featured on www.youtube.com/indiais.
There will be a total of ten winners, with three in each category and one first-prize winner. The first prize consists of a Canon EOS Mark II camera with lens in addition to a weekend getaway at a Taj Holidays resort in one of several locations across the country. Special prizes will be given to the most-voted and most-watched films, too. Voting must be done on or before the 20th of March, 2013.
The announcement of the finalists and winners will be at a gala event on the 22nd of March, co-hosted by YouTube and the Ministry of External Affairs. Wake up, shutterbugs — this is your chance to become famous in five minutes!
TAGS: Internet, Contests, Government, YouTube, Jayesh