Download: Windows 8 Developer Preview | TechTree.com
Download: Windows 8 Developer Preview
Currently, your only chance to experience Windows 8.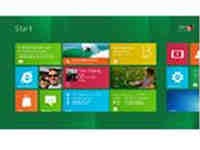 The Windows Developer Preview is a pre-beta version of Windows 8 for developers as well as adventurous enthusiasts. According to Microsoft, this software may not be stable. Hence, it has advised against using it in a production environment. In other words, install it only if you know what you're doing. Better still, be safe, and install it in your friend's PC.

Note: The setup file has been packed in an ISO image that must be burned onto a DVD or converted into a bootable USB flash drive.

System Requirements
1 Gigahertz (GHz) or faster 32-bit (x86) or 64-bit (x64) processor.
1 Gigabyte (GB) RAM (32-bit) or 2 GB RAM (64-bit).
16 GB available hard disk space (32-bit) or 20 GB (64-bit).
DirectX 9 graphics device with WDDM 1.0 or higher driver.
Touch input requires a screen that supports multi-touch.

Developer: Microsoft
Licence: Freeware
Size: 2.8 GB - 4.8 GB

Download Links
Windows Developer Preview with developer tools English, 64-bit (x64) - 4.8 GB
DWindows Developer Preview English, 64-bit (x64) - 3.6 GB
Windows Developer Preview English, 32-bit (x86) - 2.8 GB