Google Brings The Halloween Shivers With An Interactive Doodle
Spooky homepage for today — with monsters and appropriate sound effects.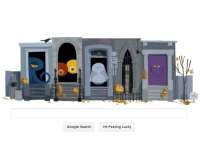 31st October is observed as Halloween in several countries (though it is essentially an American holiday), and Google has added "spook" to the occasion with an interactive doodle. The home page features the front of a haunted mansion (don't miss the "13" on the house!), plus spooky sound effects for the perfect scare-fest setting. Knock on each door to reveal the Google logo, each letter dressed up in its eerie best: The first G is a blue octopus with a big, jaundiced eye. The pair of Os in red and yellow are two blinking eyeballs, and the second G is a veiled ghost (in white, of course). The L appears from behind a barred window as a mummy, and a clattering skeleton hangs around between G and L. The E is, well, just a smiling purple monster. If you're feeling adventurous, click on each of the monsters to see them do their thing. Or, just turn off the music and click on the black cat (find it!) — all the monsters disappear!