Google Celebrates 107 Years Of Winsor McCay's Little Nemo With An Interactive Doodle
Little Nemo in Slumberland comes to life on Google's homepage in the animated style that would make its creator proud!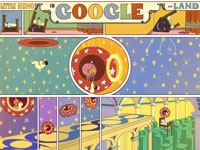 American cartoonist Windsor McCay's first comic strip, Little Nemo in Slumberland came to life this day, 107 years ago. While not many of us witnessed the event as it happened, the cartoon strip is iconic in many ways — it was one of the earliest examples of dark humour and violence in this format. Understandably, it wasn't a major hit with little children, but those who enjoyed dark comedy, and art (his style of using colours and painting technique are considered revolutionary at the time) became instantly hooked. McCay's IMBD biography further illustrates how much effort went into making the strip back in the days: "Inspired by his son's flick-books, he spent four years and produced four thousand individual drawings in making his first animated cartoon 'Little Nemo', completing it in 1911".
The series of weekly comic strips originally appeared on Sundays in the New York Herald and New York American newspapers and was named Little Nemo in Slumberland, which later changed to In the Land of Wonderful Dreams, when it switched between the two newspapers.
Coming to the interactive comic-strip styled doodle, it takes you through one of little Nemo's dream, where he falls off his bed into a hole, only to be saved in time by Princess Camille, daughter of Slumberland's king, Morpheus (here, the strip is named Little Nemo in Google Land, so its his journey across Google-land instead). As his adventures take him through the letters of the search giant's name, his journey ends with him falling off his bed, again.