Japanese Company Shows Off "Invisible Glass"
Reduces reflections by letting 99.5% of light pass through it.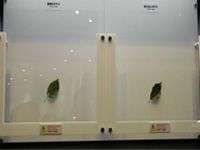 The Nippon Electric Glass Company has showcased a glass substrate that it calls "invisible glass" at FPD International 2011. With this material, the company has reduced the reflectivity of glass to the extent that it is hardly visible.

Normal clear glass lets 92% of incoming light pass through it, which means that 8% of the light gets reflected. On the other hand, the treated glass allows about 99.5% of incoming light to go through it. NEGC claims that this feat is achieved by using 30 layers of anti-reflection film on both sides of the glass. The thickness of these layers is measured in nanometres.

On the left is normal glass, while the "invisible glass" is on the right.
This is a much-needed invention, as we are still plagued with screen glare even in the times of fancy AMOLEDs. Although the company hasn't revealed a timeframe on availability, I'm hoping to see non-reflective glasses on LCD monitors and handhelds by the end of next year.
TAGS: Displays