Qutb Minar Becomes First Indian Monument To Get E-Ticket System | TechTree.com
Qutb Minar Becomes First Indian Monument To Get E-Ticket System
However tourists will still have to to queue-up at the ticket counters for entry.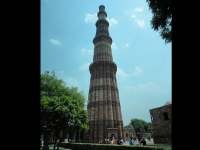 The Qutb Minar is second on the list of most visited monuments in the country, just after the Taj Mahal. Considering the sheer number of daily visitors to the monument, the Archaeological Survey of India (ASI), which manages the UN Heritage site, has set up a trial run for an automated ticketing programme. From today up to 31st October, ticket counters at the Qutb Minar will feature the new e-ticketing system.
The system has been designed by the National Institute for Smart Government (NISG). An official press release says the main idea is to cut down on queues. From the press release: "The basic idea to introduce e-ticketing ... is to make the current manual system of issue of paper tickets hassle free so that the visitors are not required to stand in queues wasting precious time". The system will also help collate data regarding accounts and visitors.
It is disappointing that tickets aren't retailing online: Visitors will still have to line up at the ticket counters, which will issue tickets via an e-POS system. The only difference from paper ticketing seems to be that the tickets will be printed out instead of being written upon; how this setup will help tourists is beyond me. Repeated calls to the ASI didn't get us any response.
As of now, the ASI controls entry to 116 monuments in the country; if this trial run is successful, the system will be extended to the other 115 monuments on the ASI's list.
Do you plan to visit the Qutb Minar anytime this month? Do let us know whether the new system reduces queue times!
TAGS: Government, Weird, Kamakshi