Free Mobile Roaming From Next Year, Says Government | TechTree.com
Free Mobile Roaming From Next Year, Says Government
Process for implementing new policy has yet to take off; mobile operators may hike rates to offset losses.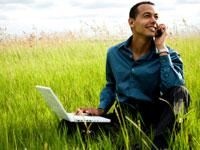 National roaming charges will be abolished from next year, according to Communications Minister Kapil Sibal. The politician stated this while replying to a query about the announcement first made earlier this year, in line with the National Telecom Policy (NTP) 2012. Currently, subscribers have to pay significant roaming charges for calls and SMSes. While the minister did not specifically state it, as a result of this move, subscribers will be able to retain their mobile numbers even after moving to another circle.
Mobile operators are not too happy about this though, as the move will require major changes in infrastructure and policy, but only benefit 10% of the total subscriber base that actually uses national roaming. Already reeling under the aftermath of the 2G spectrum scam and the looming prospect of a licence re-auction, the Cellular Operators Association of India (COAI) expressed its displeasure, stating "...you are making the industry go through a churn for something that benefits only 10% of customers".

Another thorny issue in the implementation is the matter of inter-connect charges, which is the amount paid by one operator when its subscriber uses another operator's infrastructure while roaming, for circles where the former does not have sufficient coverage. Since mobile providers stand to lose on both roaming and inter-connect charges with the new policy, they might feel the need to hike call rates to make up for lost revenue. Moreover, even though Sibal might have grandly declared the deadline for implementation, the fact of the matter is that the Telecom Regulatory Authority of India (TRAI) is yet to begin the process of consultations and debate that will lead to the new rules. Given the contentious issues that need to be resolved, it is unlikely that this will happen in the next few months.

Incidentally, 3G roaming is still illegal, according to a diktat of the Department of Telecommunications (DOT), and we can probably expect the decision to be upheld in the next NTP. The overall effect of the decision to allow free roaming will benefit a small minority, while the overwhelming majority that doesn't roam may now need to brace for a price hike. Do you consider this fair? Let us know in the comments.
TAGS: Telecom, Government, Jayesh