Details Of Angry Birds Spinoff Called Bad Piggies Leaked Online
Instead of slinging pigs around, gameplay consists of physics puzzles along the lines of Rovio's recent Amazing Alex.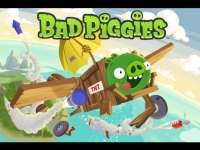 Seems like Rovio wants its casual-games loving audience to get up and use its brains. After the success of its Angry Birds franchise, and the newly-added Amazing Alex, the Finnish company is all set to debut its new game called Bad Piggies later this month. While speculation has been rife about the nature of the game, the cat seems to have been let out of the bag. Taking a cue from the physics-based Amazing Alex, the game will let players create wobbly flying machines and crude jalopies, using which you need to guide a pig to the end of each level.
Petri Järvilehto, EVP of Games at Rovio, explained that the gameplay for Bad Piggies and Angry Birds would be worlds apart: "Angry Birds smash things up, Bad Piggies build stuff. The pigs are all about making plans and building things, even — and especially — when they don't work!" The game is expected to release on 27th September on the iOS and Android platforms. Until then, you can check out this video to see what the fuss is all about:

TAGS: Gaming, Apps, Angry Birds, Kamakshi