Bose VideoWave II Entertainment System Launched In India; Starts At Rs 4,20,000 | TechTree.com
Bose VideoWave II Entertainment System Launched In India; Starts At Rs 4,20,000
46" Full HD display + integrated speaker system + iDevice dock.
Bose has introduced the VideoWave II high-end home entertainment system in India. This is essentially an HDTV with an integrated surround sound system, and it comes with a dock for iDevices. There are currently two screen size options for the LED-backlit HDTV: 46" and 55", each sporting Full HD (1080p) capability. You can connect up to six devices to the TV, such as your Blu-ray player, media player, satellite box, gaming console, and PC.
The official press release says the bundled click pad remote control with fewer buttons, intuitive touch sensors and on-screen interface makes it easier to control the system. Since this is an RF remote, it works through walls, eliminating the need for line-of-sight — which is required for (traditional) IR remotes.
Bose claims the set of six woofers at the back of the TV deliver immersive and powerful sound without distortion even at the loudest volumes. Bose's proprietary PhaseGuide sound radiator technology, combined with a seven-element speaker array and DSP, are employed here to produce surround sound throughout the room. ADAPTiQ, another proprietary technology from Bose, is said to take care of proper distribution of all sound channels by automatically adjusting for objects in the room.
The VideoWave II comes with a dock for the iPod or iPhone, so you can beam entertainment from the portable devices to your living room. The click pad remote takes over the controls of the iDevices when in docked mode.
This is a lifestyle product, and the price tag is hefty: The VideoWave II system 46" model will set you back by Rs 4,20,000, while the damages for the 55" model are set at Rs 5,00,000.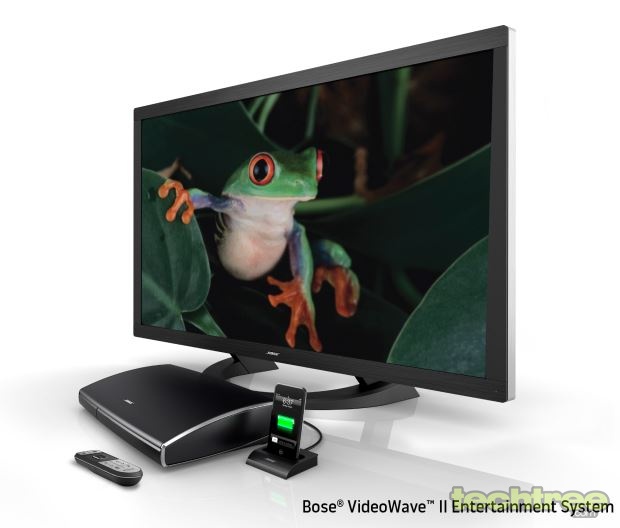 TAGS: Home Theatre, Bose, Jayesh