Nokia Announces Asha Series | TechTree.com
Nokia Announces Asha Series
Includes four affordable phones running the Series 40 OS.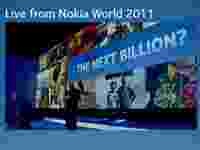 Keeping its The Next Billion promise, Nokia has announced its Asha series with four confirmed members. The new devices are namely Nokia 200, 201, 300, and 303 with from factors including QWERTY and Touch and Type.

The 200 and 201 are virtually identical with the only difference being that the former supports dual-SIM. The devices feature a full QWERTY keyboard for messaging junkies. Both devices come with up to 32 GB on-board storage and a 2 MP camera. Social network, IM, and email integration is built into both the phones. According to the company, the devices are expected to retail at 60 euros (approx Rs 4100).


The most feature-rich among the bunch is the Asha 303. Powered by a 1 GHz, this device features a 2.6" capacitive touch screen. This unique Touch and Type phone also sports a QWERTY keyboard. Other specs include a 5 MP camera, Wi-Fi, Bluetooth, and 3.5 mm jack. It will come preinstalled with Nokia Browser that compresses web content up to 90% to reduce data consumption (similar to the Opera Mini). Asha 303 is priced at 115 euros (appros Rs 8000).


The Asha 300 is Touch and Type phone powered by a 1 GHz processor. Along with a 5 MP camera, this 3G-enabled phone sports a T9 keyboard. More importantly, Angry Birds has finally hit the Series 40 platform. The 300 is expected to retail around 85 euros (approx Rs 5900).


TAGS: Mobile Phones, Nokia, Asha, ck