SanDisk Announces Festival Contest With Over 45 Phones Up For Grabs
500 prizes to be given away over an 8-week campaign leading up to Diwali.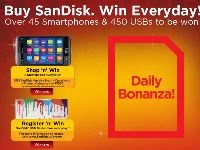 SanDisk Corporation, a leading manufacturer of memory products, has announced its "Daily Bonanza" contest — in which it will give away over 500 prizes. This 8-week campaign has been strategically launched to lead right up to Diwali. A press release states that the idea is to "boost awareness of high-quality flash memory products". (We've got to take the "awareness" bit with a pinch of salt and a dash of pepper.)
Contestants get the chance to win over 45 smartphones every day with the purchase of a product with 4 GB+ capacity. If you don't want to buy anything, you can still win one of 450 flash drives by registering online. SanDisk will give away 10 of these every day; more information is at http://www.sandisk.in/promo.
Existing SanDisk customers can enter the contest by SMSing SanDisk <Invoice No.>, <Capacity>, <Product Category> to 53030 — for example, SanDisk ABC1234 4GB Extreme. You can look up the product category here. The page also shows you your chances of winning any prize, which depends on the product category. (Basically, the more expensive your product, the more your chances of winning something.)
As of today, the contest is open across India.