Apple Store Refuses Reality App
Censorship disguised as concern.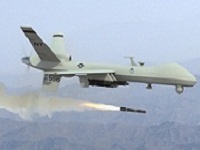 Apple recently barred an iPhone app that sends an alert when US drone strikes kill innocent people in Pakistan and elsewhere.
It's quite a comical situation in the Land of the Free: An app that just aggregates news, informing people about what their Government is doing using their tax money, is banned.
Drones+ doesn't do much more than send users an informative pop-up each time a US drone hits a civilian target. It gets its info from a database at the Bureau of Investigative Journalism. Apple didn't like it. First they told developer Josh Begley it wasn't useful/entertaining, then they said it was hiding a logo. Eventually, they said it was "crude," and that "many audiences would find it objectionable."
Begley (the app's developer) summed it up this way: "If the content is found to be objectionable, and it's literally just an aggregation of news, I don't know how to change that." Asked if he would make a Drones+ for Android, Begley said he'd consider it.
Since Drones+ doesn't show any graphic imagery, or even graphic text details about what happens when a Drone does its job well, we have the following possibilities:
1. The US' "drone war" is objectionable.
2. News of government military activities in general is objectionable.
Or maybe it seems anti-US-government, so Apple doesn't like it – and politely defers. Drones+ wouldn't have been used by many people anyway; the rejection is significant because its presence on the Apple Store (and awareness about the strikes) is probably what Begley wanted.
We know you wouldn't bother actually downloading this app, but do you think Apple is justified or being plain wimpy? Sound off below!
TAGS: Apple, iPhone, Apps, Government, RMR