IFA 2012: Samsung ATIV S Beats Nokia To It | TechTree.com
IFA 2012: Samsung ATIV S Beats Nokia To It
Launches first Windows 8 phone.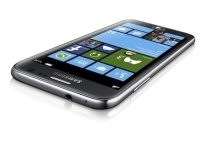 It was an expected announcement at IFA 2012. On 29th August, Samsung revealed its version of a smartphone running Windows Phone 8. The phone is branded ATIV — a name we've known about for some time. The ATIV lineup also includes the ATIV Smart PC, a 10.1" tablet, and a 4.8" display, among others.
Nokia's version of a Windows 8 phone isn't too far away, and we'll have to see whether getting there first will make a difference. Also, the ATIV smartphone has been rather well-received by those who've had a look. Check out WindowsTeamBlog.com. We'd been speculating about what "ATIV " means; apparently, it's "Vita" — meaning "life" — spelt backwards. Combine that with the fact that "ATIV" doesn't sound as nice as "GALAXY", and you have a rather silly name. But the phone's great, so it probably doesn't matter.
TAGS: Mobile Phones, Events, Windows Phone, IFA, Samsung, Nokia, ATIV, Lumia, RMR