Rumour: Pictures Of Sony's First Windows 8 Tablet VAIO Duo 11 Leaked
Appears to feature an 11" touchscreen, slide-out keypad, and stylus support; will probably be announced at IFA 2012.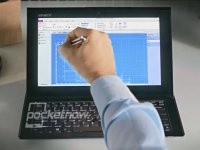 As Windows 8's release date approaches, news and rumours are pouring in as manufacturers prepare to launch launch tablet-laptop hybrids. In the latest dose of juicy gossip, images of Sony's upcoming Windows 8 tablet, called the VAIO Duo 11, have surfaced on the internet via Pocketnow.com. While the there's no information available as to its specs, going by its name, the slate appears to pack in an 11" touchscreen. From the images, you can tell that the device features a backlit keyboard and is also compatible with a stylus. Moreover, rather than opting for a detachable keyboard accessory, Sony has chosen a slide-out design, with a mechanism that looks identical to what we've already seen on MSI's Slider S20 Ultrabook. The "Duo" in the name probably stands for this dual-use capability of the gadget as both a tablet and a laptop.

As of this writing, there's no indication of the VAIO Duo 11's pricing and availability. However, since the images have surfaced just before IFA 2012, the tablet will probably be unveiled during the event, which starts on Friday.