Download: Espier Launcher | TechTree.com
Download: Espier Launcher
Make your Android look like an iPhone.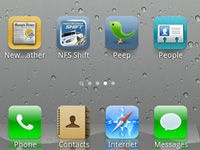 Are you an Android fan who secretly admires the iOS interface? Well, our Chinese friends have come up with an Android launcher that is a shameless copy of iOS. The skin offers the closest iOS experience you can have on your Android. It not just changes the layout and icons, but also supports dynamic display of information. Moreover, it allows you to organise app folders the iOS way.

Other features include:
Support for adding shortcuts on the desktop.
Supports a variety of icon sorting methods.
Easily search for applications, contacts, SMS, e-mails, and so on.
Support for desktop configuration restore/backup.
Press and hold any icon to open desktop editing mode.
Sliding the taskbar into the system function area reveals multiple system functions.

Download the app by clicking this link.

Platform: Android
Size: 4.2 MB
Website: http://weibo.com/espier
Licence: Freeware