Facebook Adds "Subscribe" Button | TechTree.com
Facebook Adds "Subscribe" Button
Is similar to Follow feature of Twitter.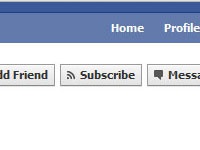 Facebook has unveiled yet another feature, a "Subscribe" button to remain updated about people who are not even on your friends list. Similar in functionality to the "Follow" feature of Twitter, its purpose is also similar to that of the micro-blogging service. Probably for the first time since its inception, Facebook has been facing some intense competition from Google+, which offers more and better services. Compounding its woes is the fact that Google+ has now come out of its invitation-only phase and allows anyone to join it. Facebook has therefore been trying to bring out new features in a desperate bid to keep its subscribers from jumping over to the Google+ juggernaut.

Before this feature was unveiled, you could set your News Feeds to not show updates from certain people. This new feature lets you choose to see all updates, most updates, or important updates only. You can also specify the types of updates you wish to or do not wish to see, thereby allowing you to receive updates only about the aspects specified by you. You can receive updates from anyone who is on FB, as long as that person or organisation has chosen to allow subscription.
For others to subscribe to your profile, you are required to allow them to do so. To do that, go to the Subscribe Page and click "Allow Subscribers". Once this is done, the "Subscribe" button will appear on your profile and people can subscribe to get notified about your activities and updates.
You will also get a subscribers tab on your profile page to see who has subscribed to you.