nexGTv Mobile TV App Will Come Preloaded With Zen Ultratab 7.0
The free service allows live streaming of over 100 TV channels; has been included to jazz up the tablet's specs.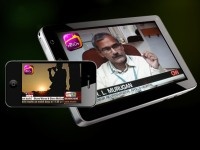 The recently launched Zen Ultratab 7.0 has now been updated to include the nexGTv mobile TV service. According to the manufacturer, the app will be "embedded" in the tablet, which probably means that it will be pre-installed. The Android 4.0 (Ice Cream Sandwich) tablet will thus be able to receive over 100 live channels, with access to a video-on-demand service as well. This means you can now catch your Saas Bahu serials even while on the move.
The nexGTv app is a free video streaming solution for the Android, iOS, and Symbian platforms. The insane popularity of the app isn't without reason, since it can turn your tablet or smartphone into a full-fledged TV. It can also automatically adjust the video quality according to your connection speed, ensuring seamless playback. Users can even watch older episodes with its Replay TV feature. Most of all, the impressive mix of regional, entertainment, and news channels is what sets nexGTv apart from the competition.
Since the app is already available for free in the market, its inclusion in the Zen Ultratab 7.0 seems to be a marketing ploy meant to dazzle buyers with the ability to watch TV on their tablets, right out of the box.