30 Million Samsung Galaxy S And Galaxy SII Sold
Flagship smartphone is still selling like hot cakes around the world.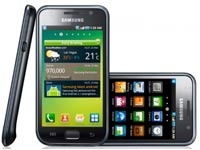 Samsung has announced that its Galaxy S and Galaxy SII smartphones have achieved combined total sales of 30 million around the world. The Galaxy SII dual-core smartphone has set a new record for the company by selling over 10 million pieces in just five months, quicker than any device in the company's history. The Galaxy S was launched in 2010 and has now reached almost 20 million sales, making it the highest selling mobile device in Samsung's history to date.

A point of contention here is that Samsung rarely makes the distinction between actual sales and channel sales figures. This means that while it may be true that the said number of pieces have left the company warehouse, it is not clear whether all of them have been sold off the shelf. It is therefore better to take this figure with a pinch of salt.

Nevertheless, the figures are impressive until you think about the fact that Apple has just sold 4 million iPhone 4S devices in just three days.
TAGS: Mobile Phones, Samsung, GALAXY, Jayesh