URBAN Launches Nexus M: The Ultimate Calling Smart Watch with a Massive 2-Inch Fluid HD Display, Advanced Single Sync Chipset, Exclusively on Amazon | TechTree.com
URBAN Launches Nexus M: The Ultimate Calling Smart Watch with a Massive 2-Inch Fluid HD Display, Advanced Single Sync Chipset, Exclusively on Amazon
Boasts of a 2" smooth fluid butter HD display, advanced dedicated dual sensors for HR, BP & SpO2 Monitoring, 150+ Watch Faces and 120+ sports modes and more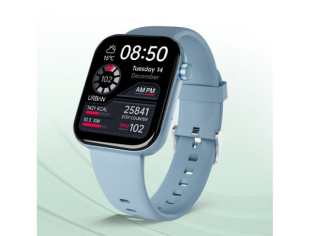 URBAN, the home-grown premium smart wearable brand, just launched their first Amazon exclusive calling smartwatch, the URBAN Nexus M on Amazon.in, at an attractive introductory price of INR 1,599/-. Featuring a spectacular industry leading 2.0" smooth fluid HD display and advanced single-sync chipset for single bluetooth connectivity, the URBAN Nexus M Smartwatch is packed with advanced functionalities, including Bluetooth calling with noise isolating mic & speaker. The smart watch boasts of a massive selection of over 150+ trendy watch faces and premium silicone straps. For fitness lovers there are 120+ sports modes and accurate step and calorie tracker. The dedicated dual sensors can monitor SpO2, heart rate & blood pressure 24x7 continuously. It can also track sleep patterns accurately.
Aashish Kumbhat, Co-Founder, URBAN, stated, " We are excited to launch the URBAN Nexus M Smartwatch, which reflects our commitment to providing innovative and advanced devices that enhance the daily lives of our customers. Our vision with the URBAN Nexus M was to create a smartwatch that not only offers advanced features and functionality but also supports a healthy and connected lifestyle. As brand ethos we do not compromise on the quality and this product is no different and hence URBAN Nexus M is fitted with the industry leading and one of the most advanced single-sync chipset available today."
Premium design & display
The URBAN Nexus M smartwatch is designed with a sleek and modern style that features an ultra-narrow bezel, giving it a premium look and feel. The massive 2.0" HD display provides excellent visibility, and the super-bright 550 NITS display ensures that the watch is easily readable even in bright sunlight. With over 150 customizable watch faces, users can personalize the watch to fit their unique style.
The smartwatch offer users a premium experience with its high-quality silicone straps carefully designed for long extended usage with causing discomfort.
Advanced features
The URBAN Nexus M Smartwatch is packed with advanced features that make it stand out from other smartwatches in the market. The watch comes with Bluetooth calling with a noise-isolating mic and premium speaker, which allows users to make and receive calls from their wrist without compromising on the quality. With the one of the most advanced Realtek single-sync chipset, users need to connect only one to make calls, save contacts, listen to music or track health & fitness and more.
The watch also features dedicated dual sensors and latest Bluetooth connectivity that ensures a stable and reliable connection with Bluetooth-enabled devices. The one-tap AI-enabled voice assistant also allows users to perform various tasks with ease, such as setting reminders, checking the weather, and more, without having to navigate through menus and settings. The watch's fitness features include 120+ sports modes, an advanced step pedometer, calories burnt tracking features, and continuous SpO2, heart rate, blood pressure monitoring, sleep monitoring, hydration alerts, and sedentary alerts for healthy living. With its advanced features, the URBAN Nexus M Smartwatch is a perfect companion for fitness enthusiasts and health-conscious individuals who want to stay connected and track their health and fitness goals.
Price, color, and availability
The URBAN Nexus M Smartwatch is launched exclusively on amazon.in & is priced at an attractive inaugural price of INR 1,599. The watch comes in four trendy color options, including Rose gold, Midnight Black, Cobalt Blue, and Mint Green. The watch is now available exclusively on Amazon.
TAGS: URBAN