U&i Brings 4 New Audio Wearables for Every Smartphone and Tablet | TechTree.com
U&i Brings 4 New Audio Wearables for Every Smartphone and Tablet
Wired or wireless, gaming or music, there's one for every phone, every budget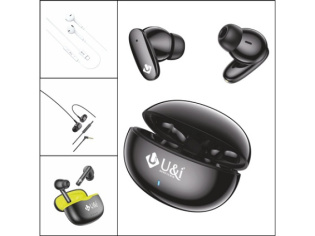 Be it for calling or music, movies, or gaming, an earphone is that one personal wearable that makes sure you are immersed in your content. However, each individual has a preferred choice of personal audio accessory based on the requirement and budget — be it wired or wireless. Keeping these requirements in mind, India's well-known gadget, accessories, and consumer electronics brand U&i brings to market four new audio wearables that cater to the type and budget of every smartphone and tablet. Presenting the KTV series and PERFUME BOX series in the budget wired earphone series, and the JUMP and ENC AIR 06 in the TWS series of audio wearables. Each wearable has its own USP that features great performance while offering affordable prices.
U&i KTV Series Wired Earphones
Wired to make sure you have an upper hand over your opponent in the gaming arena, the KTV is a USB-C headset that offers zero latency with the best audio delivery ever. 10mm drivers that create deep bass and rich trebles immerse you into your music, movies, and gaming, while powerful inline microphones ensure your calls are extremely clear at the other end. Smartphones, tablets, laptops, consoles, and more — this headset has the best compatibility on the plate. Available in decent white color with Type-C connectivity the earphones has an MRP of INR 999.
U&i PERFUME BOX Wired Earphones
Made for universal compatibility — whether it's a computer, audio player, or portable, the PERFUME BOX sports the robust 3.5mm jack for the best in quality audio. Comfortable earbuds with skin-safe silicone tips, these headsets are built for work and entertainment. The headset also sports an in-line control panel for volume and hosts a high-fidelity microphone with CVC Noise Reduction for superior-quality voice communication. Available in 5 attractive colors — Blue, Green, Yellow, Black, and Red the earphones has an MRP of INR 249.
U&i JUMP Series Wireless Earbuds
Completely wireless with BT V5.0+EDR, the ultra-lightweight TWS earbuds sport sweat-proof, comfortable, and snug-fit ergonomics for all-day wear. The JUMP can produce the highest-performance audio for music, movies, and gaming while ensuring the best voice clarity with noise-reduction technology. With a mammoth 25-hour total battery life, the JUMP Series is a splendid companion for your outdoor trips. Each earbud can entertain you for a good 5 hours with its 30mAh internal battery, while the charging case with its 200mAh battery can refuel those buds another four times. Lastly, you can top-up the JUMP with a fast-charging USB-C cable in under 90 minutes, and retain its charge on standby for a good 500 hours. Available in dual-tone colors — Blue/Grey, Blue/White, Black/Yellow, and Red/Black the TWS Earbuds are priced at an MRP of INR 2,499.
U&i ENC AIR 06 TWS Earbuds
30 hours of non-stop music, these TWS can surely keep you entertained the entire day and thereon. Whether you are at home, at the office, commuting, or traveling, you won't need to charge them for more than a week so you can stay on the journey for as long as it takes. Built-in surround sound technology with composite diaphragms produces superior audio so you are immersed in your content wherever you are. The TWS is uniquely designed with a lightweight, small form factor and extremely ergonomic design for a snug fit and all-day wear. Available in two colors — Black and White the Earbuds are available at an MRP of INR 2,499.
Pricing and Availability
Users can buy these audio wearables from all the U&i outlets and other leading retail stores across India.
TAGS: U&i