Google's New Chromecast is Cheaper with More Features | TechTree.com
Google's New Chromecast is Cheaper with More Features
Google has also launched Google TV in 19 countries along with the new streaming device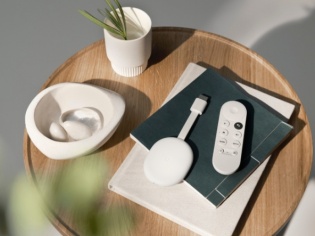 Google has once again set the cat amongst the pigeons. The company has come out all guns blazing to make a pitch for the streaming media business with two offerings - a new Chromecast with HD streaming support and a remote and Google TV (HD) that streams most OTT apps and some more.
What's more, the new Chromecast costs $30, which is actually less than what the original version cost. Two years ago, the company had launched a $49 Chromecast with 4K HDR streaming support. The latest one supports 1080 pixel streaming and supports more than 10,000 apps that includes Netflix, Disney Plus and Prime Video.
Are they launching in India? Looks like they're not, though we couldn't locate any official word on the topic on any of Google's blog posts. Looks like Sundar Pichai still doesn't believe that Google products have a life in his country of birth, though we did hear that the Google Pixel 7 and Google Pixel 7a would make it here alongside the global launch.
Coming to the Chromecast, the remorse is similar to the 2020 edition with simple buttons for back, home, mute, power and TV input sitting alongside Google Assistant. The volume controls are on the sides and the remote can directly switch to YouTube and Netflix. Google Assistant lets you search for shows, movies and videos besides setting voice controls.
The new Chromecast comes with all the regular stuff such as profiles for different users, content suggestions tab, a library tab for purchases and rentals from Google and a watchlist that can be synced across devices. Users can also group nest speakers and play music in different rooms directly via their televisions or smartphones.
Of course, if you've been watching the industry closely, there's not much Google has done on time with this launch. This is the first time in four years that it has upgraded the budget version of its Chromecast, while Amazon bought in $30 HD streaming sticks during this period.
TAGS: Google, Google Chromecast, Chromecast, google tv