Intel's AI-based Assistance for Truckers Misses One Trick | TechTree.com
Intel's AI-based Assistance for Truckers Misses One Trick
The suite of tools that could be a boon for trucking industry but discounts an important fact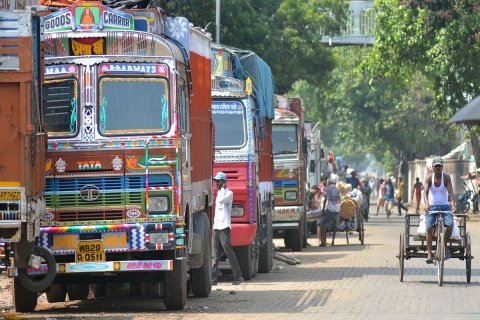 Global chipmaker Intel recently showcased an AI-based driver assistance system for commercial vehicles in India. Called the Intel Onboard Fleet Services (IOFC), the suite of tools adds sensor-based safety options and associated analytics that could make our highways much more safer besides making it more efficient.
However, a crucial factor that appears to have been missed in this exercise is the lack of basic education amongst a large section of the trucking community in India and how this reality would interplay with the technological advancements that we are seeking to place in their hands.
Intel shared details of the IOFC at a media conference on Monday and highlighted that the suite of tools is powered by its subsidiary Mobileye, which happens to be an automotive intelligence company based in Israel that it had acquired in 2017. The tools include collision avoidance systems, driver monitoring, fleet telematics and health, fuel efficiency metrics etc.
Does education matter?
At first glance, all these solutions appear driver-agnostic with the analytics team in the backend doing any heavy lifting that may be required. However, the fact remains that Intel's tools combine both hardware and software that can be used as sensors on a truck fleet. Data from these would be collected on a cloud-based portal which then offers analytics and telemetry data.
All of this data would definitely help maintain and manage the fleet better and enhance efficiencies all round, but there still remains a catch. Since a good part of the hardware would be installed in the vehicle itself, it requires regular care, which in this case may be limited as drivers in India seldom put in effort to maintain the vehicles, especially if it's part of a fleet.
Intel has done its best though
Make no mistake! Intel has done its best as it those using the fleet services would get driver coaching as an add-on. The idea being to make the drivers better connect with the features and provide specific information about how it would help them in their onerous tasks. Intel also said that 16 logistics companies in India have evinced interest in the product.
Moreover, the move resonates with the government's efforts to use technology to make highways safe. Readers may recall that earlier this year, the ministry of electronics and IT had partnered with the Center for Development of Advanced Computing (C-DAC), IIT-Madras and Mahindra's to kickstart the second phase of an intelligent transport systems (ITS) program.
The program provides a range of offerings including radar-based driver assistance and warning systems for buses and several IoT-based sensor deployments for contextual traffic management systems. Intel's latest effort would add to a growing market that can potentially make driving a much safer occupation in India.
And Intel made a strong case for such a safe zone. They threw statistics that in spite of India being home to just one percent of global vehicles, it accounts for 11% of all road accidents that results in 17% of all the fatalities per hour.
Maybe truck drivers need to be first trained in the alphabet, the road signs and basic best driving practices, before they're given heavy vehicle licenses.
TAGS: Artificial Intelligence, AI, Intel, Intel AI, driverless trucks, trucks